What is in the testing kit?
Your STI testing kit includes everything needed to collect
samples for Chlamydia, Gonorrhoea, HIV and Syphilis:
4 x specimen tubes & labels
1 × prepaid return envelope
1 × specimen bag
3 × swabs
1 × urine collection cup and pipette
2 × request forms
1 × instruction booklet
This test kit does not use a finger-prick test for HIV.
How it works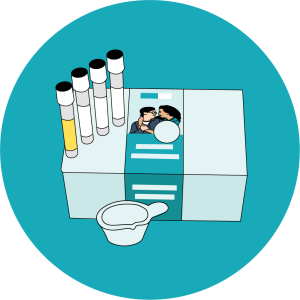 Receive your test kit
Review the instructions and collect your personal test samples. Everything you need is included with this kit.
You may need a blood test
You may be required to get a blood test –pre-paid blood collection forms are included with this kit
Send your samples back
Visit a collection centre or return your samples in the provided courier bag.
Receive test results
Results will be in your inbox within days
Test Instructions
Your STI screen includes testing for Chlamydia and Gonorrhoea (swabs and/or urine collection), and HIV and Syphilis (blood tests). This screening kit is suitable for all people, however the type of samples you need to collect is not the same for everyone.
Download the STI Testing Kit Instruction Booklet and read the following instructions to ensure you collect the right samples.